Corporate Responsibility at If P&C Insurance
If P&C is committed to promoting safety and economic security in society. In 2016 If P&C dealt with more than 1.8 million insurance claims covering a huge range of events from minor water damages to traffic accidents and earthquake damages faced by companies. Half of the claims are processed within 24 hours. The company paid out almost EUR 3 billion in claims over the past year.
Environmental issues are of critical importance and often have a direct impact on the operations of P&C insurance companies. All of If P&C's operations are governed by a strict environmental policy. The essence of this policy is that the most environmentally viable solution for clients, suppliers and partners, as well as the company itself, will always be looked for.
If P&C wants to contribute to a sustainable environment. It has been a climate-neutral company since 2011 and it compensates its emissions through various projects. If actively takes part in public discussions and increases the awareness of decision makers when it comes to security and safety related topics. One important topic for If P&C is traffic safety. If P&C's researchers analyze the company's extensive injury statistics and publish the information for use in order to increase traffic safety for motorists, cyclists and pedestrians alike. 
If P&C is also a significant tax payer in the Nordic countries, having paid more than EUR 157 million in corporate taxes in 2015.
Corporate Taxes for the Year 2015 If P&C, more than EUR 157 million in total
Key Environmental Issues for If P&C
Digitalization and e-insurance services: The e-insurance services combine environmental thinking with a modern customer communication. If P&C has been using e-invoices since 2001 and sending offers via e-mail to its customers since 2004. Since the fall of 2011, If P&C has been providing online services to its private customers. The number of eCustomers in the Business Area Private increased by 217 per cent during the period 2014–2016.
Increase in the Number of Private eCustomers during 2014–2016 on a Nordic Level If P&C
Business Area Private has made an electronic customer account the default for all new customers, and also continues to make it easier for existing customers to move towards electronic communication. One challenge regarding this is that several markets require certain written contracts with customers, or a strong consent to communicate electronically.
E-insurance services help to cut down on paper consumption and enable customers to access their documents with their laptops and smartphones. They can also order e-invoices, adjust payment preferences and sign new agreements online.
As an impact of the increase in digital customers, paper consumption has decreased by 51 per cent from 2014 to 2016.
Since 2016, part of the Business Area Commercial customers have also been able to obtain insurance documents in a digital format. Early indications show that Commercial customers prefer digital communication to communication by paper. If P&C will offer e-documents on a wider scale during 2017 to its Commercial customers.
As part of If P&C's overall digitalization of communication, If Denmark uses E-box as an electronic postbox to communicate with its customers. The plan is to further increase electronic communication in all the Nordic countries.
Total Paper Consumption If P&C, 2012–2016
Share of Online Claim Reports from Business Area Private on a Nordic Level If P&C, 2013–2016
Share of E-invoices in Vehicle Claims on a Nordic Level If P&C, 2012–2016
Claims handling: In 2016, If P&C handled around 950,000 claims for damaged cars and properties. The correct processing of damaged materials is a key environmental issue. The goal is to reuse undamaged parts and increase recycling. As a step towards achieving this, If P&C has implemented stringent environmental standards for its suppliers.
Online filing of claims is becoming more common and represents a more environmentally responsible choice than traditional filing methods. The number of claims filed online increased by 6 per cent in 2016, and more than 37 per cent of all claims are filed online today.
Meetings and travel: The interest in video meetings has grown rapidly since their introduction in If P&C in 2003. Today, If P&C's Nordic offices have 95 rooms with video meeting facilities. User friendliness, clear guidelines, and video support have contributed to the success. Almost 1,500 video meetings are held every month. All employees have Skype on their computer for instant messaging and virtual meetings. Being able to simultaneously converse and share documents makes online meetings a viable alternative to physical meetings.
The number of flights has decreased by 34 per cent between 2007 and 2016. The decrease in air travel is an important factor in If P&C's significant reduction of CO2 emissions. If P&C operates in all the Nordic countries and in the Baltics and therefore a certain amount of air travel has to be accepted.
Development of Flight Travel and Video Meetings If P&C, 2007–2016
Climate: If P&C's carbon dioxide emissions continued to decrease in 2016. In 2011, the company launched a carbon offsetting scheme whereby it compensates for its emissions of carbon dioxide in the Nordic region by distributing energy-efficient wood-burning stoves to villages in India. In 2015, the target country changed from India to Tanzania. The scheme is a so-called "Gold Standard project", which is an internationally-recognized certification standard developed in collaboration with the World Wide Fund for Nature and other organizations. Not only do the wood-burning stoves reduce carbon dioxide emissions, they also save lives. A report published by the World Bank shows that about four million people die each year from the pollutants emitted by inefficient wood-burning stoves. If P&C will be continuing with this offsetting program in 2017.
The total amount of direct and indirect carbon dioxide emissions from Nordic operations in 2016 was 8,389 tons. This is 59 per cent lower than in 2008, when the measurements were first taken. Purchased energy contributes 13 per cent and business travel (air, train and car) 85 per cent of the total. The total emissions from business travel were 7,131 tons. Of all the means of transportation used, air travel has the greatest impact per travelled kilometer, which makes it the most significant source of emissions. The carbon dioxide reduction is mainly due to a 34 per cent decrease in air travel and because the company now purchases 100 per cent of its electricity from renewable sources.
Development of Carbon Dioxide Emissions If P&C, 2008–2016
tons
If P&C's CO2 emissions have been offset through a Gold Standard VER project
Environmental Policy
If P&C must take substantial measures to improve the environment on a daily basis:
We always endeavor to find the best possible environmental solution – for our customers, suppliers, partners and our company.
We are developing products, processes and damage prevention services in order to help our customers act in a more environmentally-friendly manner.
We encourage and support our suppliers and partners in their efforts to use more environmentally-friendly methods in their operations.
We must always give our staff the opportunity to act in an environmentally-friendly way through the provision of guidelines and support.
We must always provide information about environmental risks and participate actively in the public debate concerning climate change.  
Structure of the Environmental Program
If P&C's environmental program has three levels:
A governance group, led by a member of If P&C's executive board, establishes and upholds the environmental strategy, policies and overall goals.
The Nordic Environmental Group is responsible for managing and monitoring the implementation of all environmental initiatives concerning facilities and procurement.
Local Environmental Groups formulate local action plans and arrange activities for increasing awareness of environmental issues. These groups are present at all larger offices.
Environmental Policies and Tools
Strictly defined environmental policies and tools are established to support and lead If P&C's environmental initiatives. Some of the key policies are:
Environmental policy
Procurement policy in line with Nordic Ecolabel procurement guidelines
Supplier assessment principles
Climate impact accounting tool based on Greenhouse Gas Protocol standard
ClimateWise platform for best practice and exchange of ideas
Environmental rules for claims handling
Related reports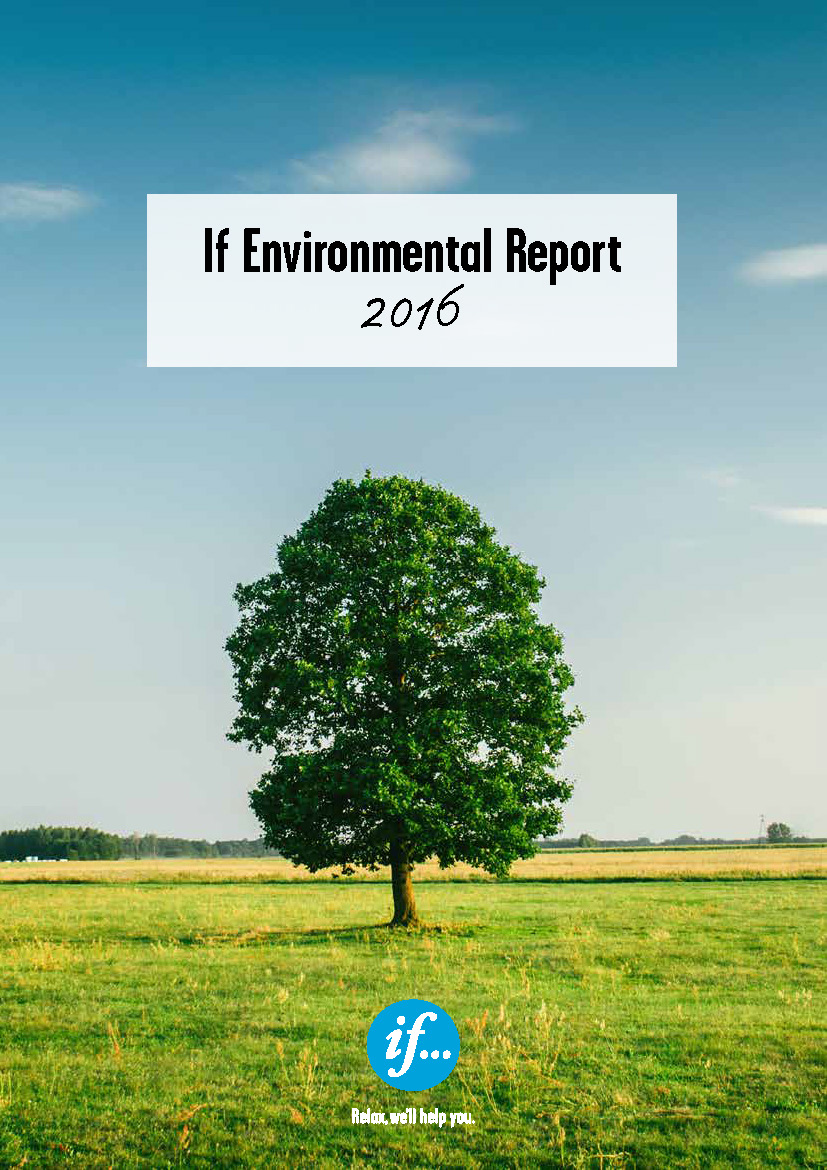 Environmental Report 2016